Mango Power E Home Backup and Portable Power Station; Big Battery Kit (1*Mango Power E + 1*Extra Battery)
Introducing the Mango Power E Home Backup and Portable Power Station: The Big Battery Kit for All Your Power Needs!
Upgrade your power capabilities with the Mango Power E Home Backup and Portable Power Station. This comprehensive kit, known as the Big Battery Kit delivering a massive 7000Wh, is designed to provide you with a reliable and versatile power solution for your home and on-the-go adventures.
The massive 7Wh capacity, expandable up to 14kWh, will enable you to weather any storm, power your crucial appliances, energize your adventures and ensure the safety of your loved ones.
The Mango Power E has an industry leading 10-year warranty when purchased through Solar Altruism, so you know we stand behind the quality of this power station through thick and thin!
(Read More Below)
Get up to 30% of your order in rebates through the Residential Clean Energy Credit. Learn More
Mango Power E Home Backup and Portable Power Station; Big Battery Kit Description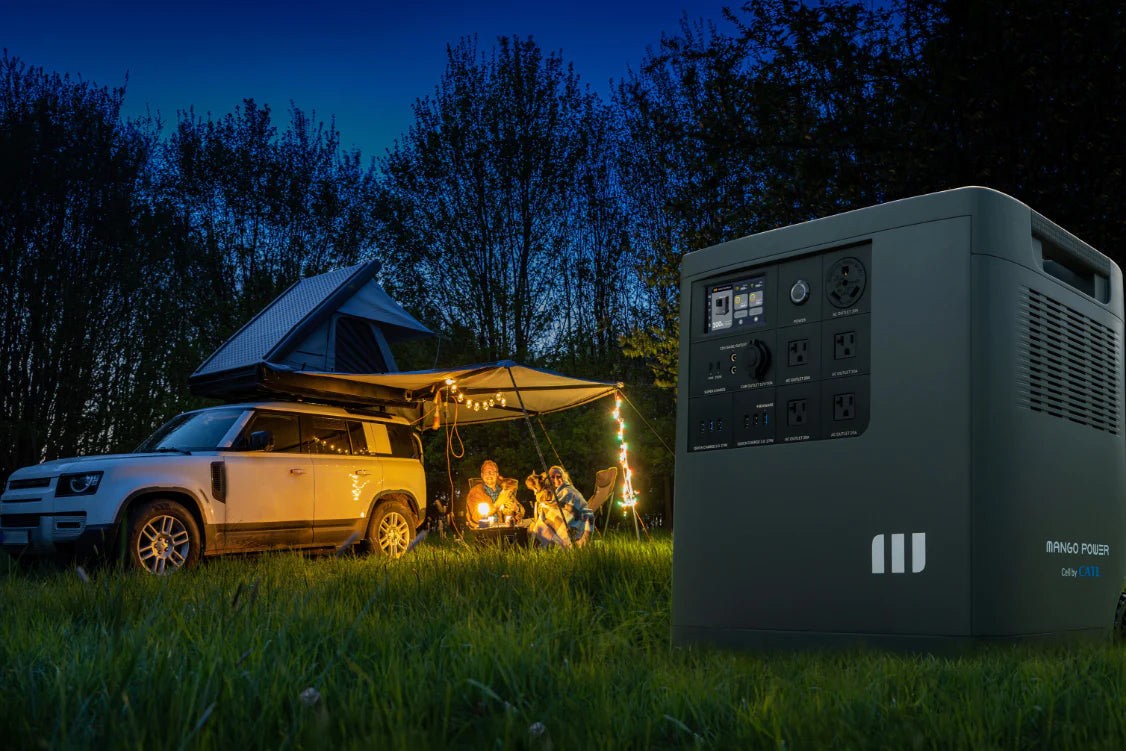 The Mango Power E Home Backup and Portable Power Station features the Mango Power E unit along with an additional Extra Battery. With this combination, you can enjoy extended power availability and storage capacity, ensuring you have ample energy for all your needs. Whether you're facing power outages or require portable power for camping or outdoor activities, this kit has got you covered.
Experience the peace of mind that comes with having a robust backup power system for your home. The Mango Power E unit and Extra Battery work seamlessly together to deliver uninterrupted power supply, allowing you to maintain your daily routines, power essential appliances, and stay connected. The portable power station provides you with the flexibility to take power wherever you go, ensuring you never run out of energy on your adventures.
Mango Power is a trusted brand renowned for its commitment to quality and reliability. The Mango Power E Home Backup and Portable Power Station have undergone rigorous testing to ensure durability, efficiency, and consistent power performance. With a growing community of satisfied customers, Mango Power has established itself as a reliable provider of premium power solutions.
Take control of your power needs and invest in the Mango Power E Home Backup and Portable Power Station: The Big Battery Kit. Experience the convenience and versatility of a reliable power solution for your home and portable power on the go. Don't miss out on the opportunity to elevate your power capabilities and secure your energy independence. Make your purchase now!
Experience the power of the Mango Power E Home Backup and Portable Power Station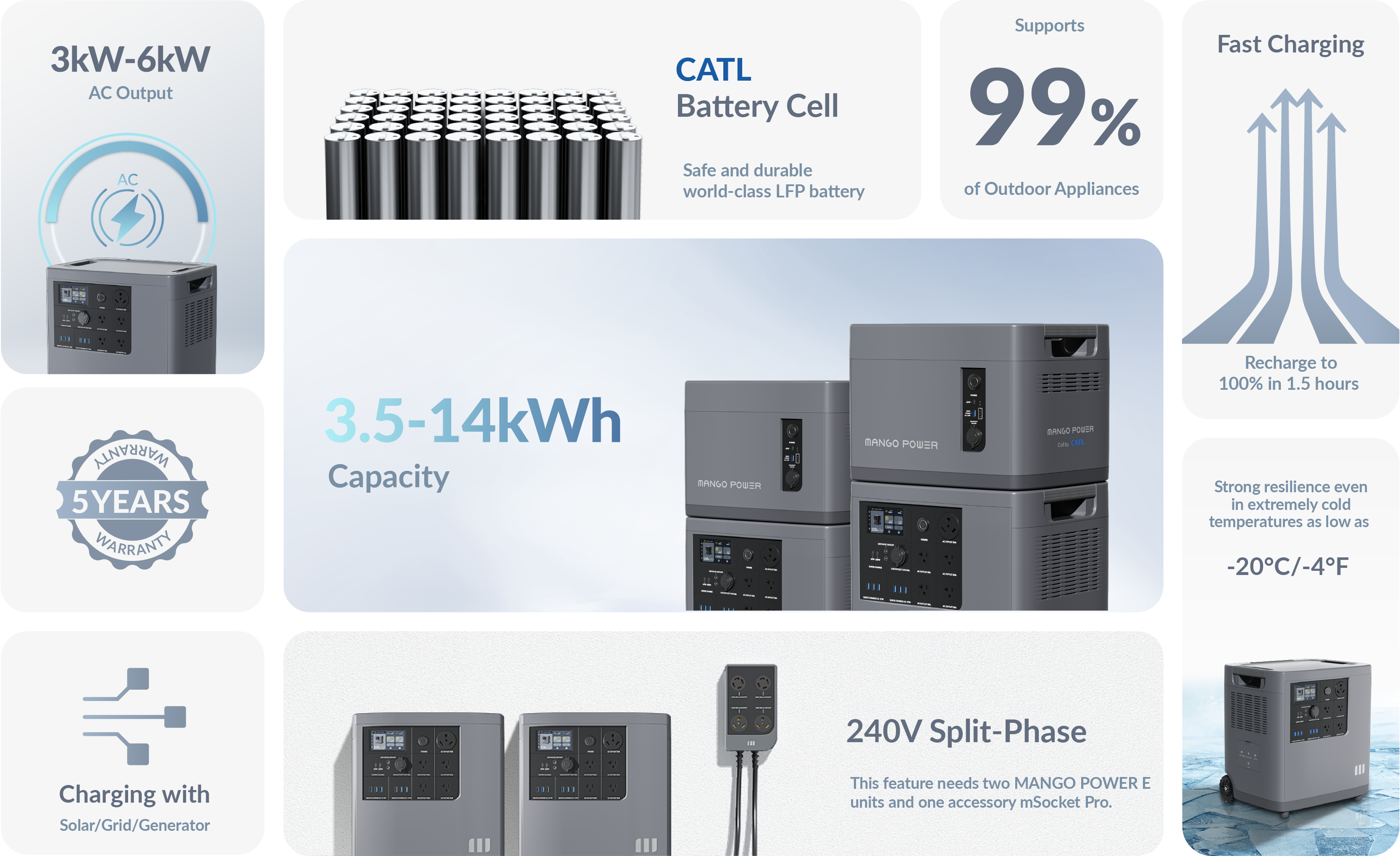 Expandable to 3.5 kWh - 14 kWh Capacity & 3000W - 6000W AC Output
240V Split-Phase for
Heavy-Duty Appliances
With the mSocket Pro* accessory, the Mango Power E becomes a high-powered split-phase generator capable of delivering 240V output so you can run large power-consuming appliances such as heaters, dryers, water pumps, and more.
*mSocket Pro Sold Separately or as a part of the Big Battery Kit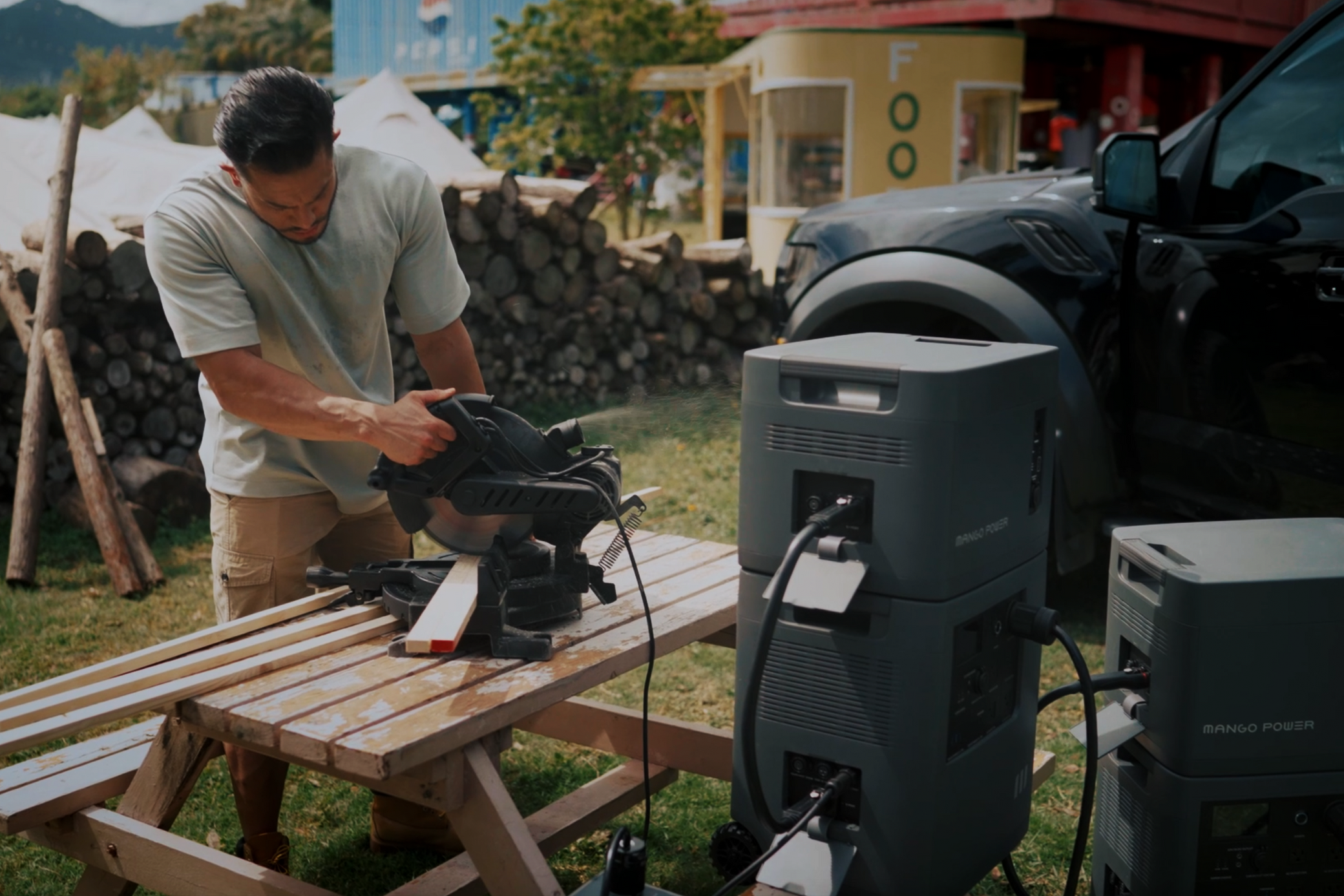 Use The Same Cells That Power the World's Best EVs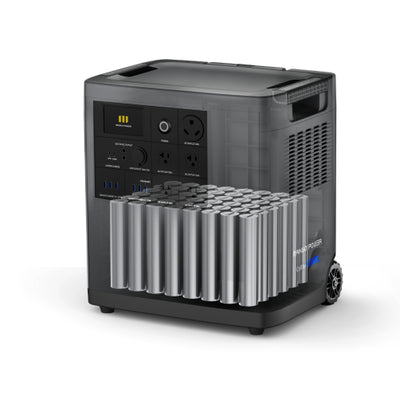 The Mango Power E uses the same ultra-durable LFP battery cells as the world's best EVs. These cells charge faster, last longer, and are more reliable than other traditional NCA/NCM battery cells.
Better Environmental Adaption
CATL's batteries can withstand temperatures from -20°C to 60°C. This allows our power stations to operate smoothly even in extreme cold conditions.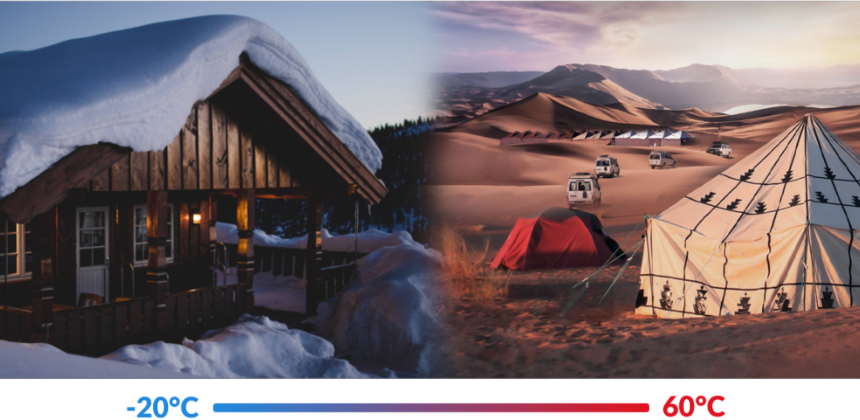 Even with up to five years' continuous use, charging, discharging, and recharging constantly, the Power E's best-in-class battery cells will still perform as well as they did when brand new.
SEAMLESS HOME BACKUP
Power Your Essential Appliances in the Event of A Power Outage.
By integrating Mango Power's ecosystem into your home circuit*, you guarantee that at the moment a blackout strikes, you enjoy power security and grid independence with a seamless, uninterrupted flow of electricity powering your lights, refrigerators, computers, and any other essential devices you have plugged in.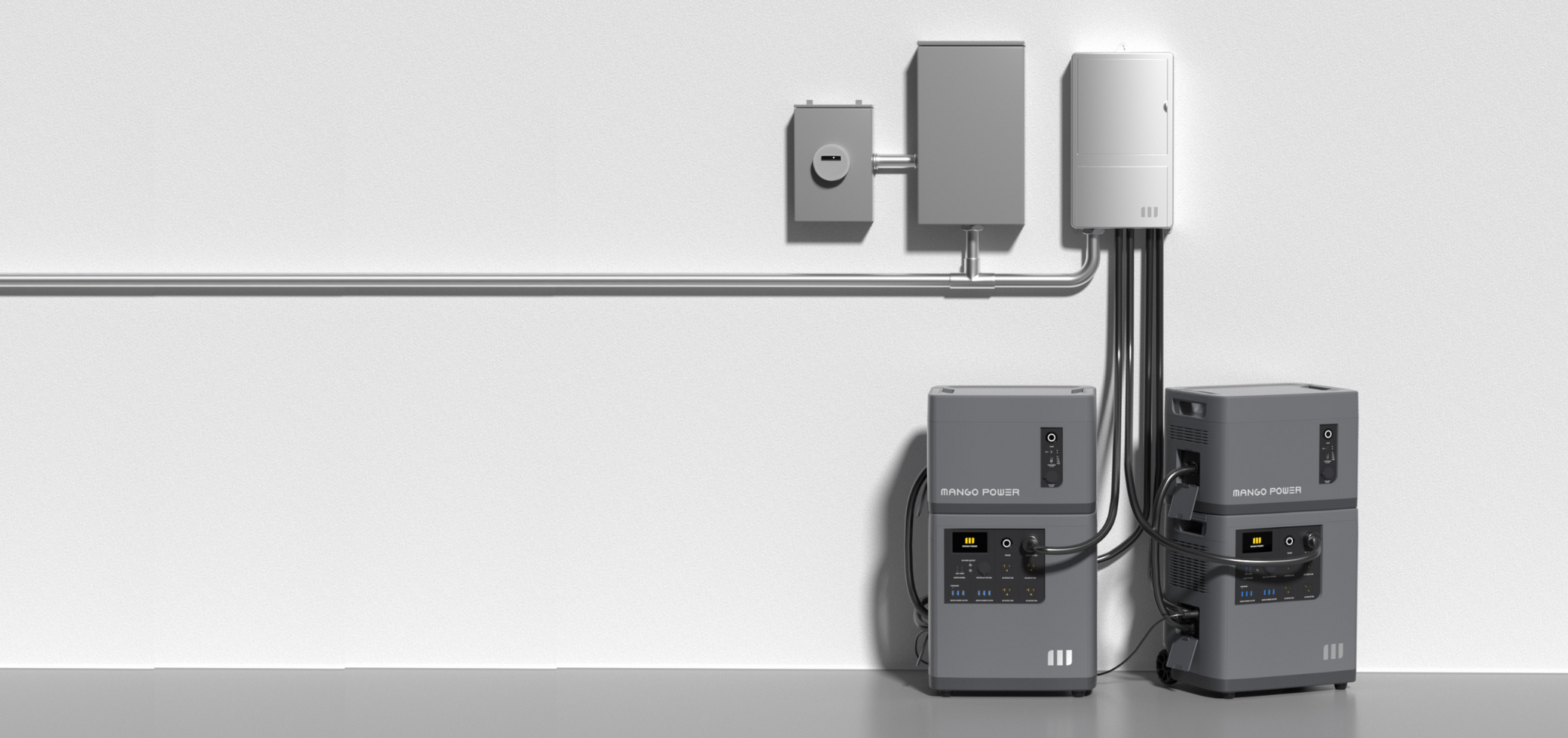 Specs Of Each Mango Power E
Capacity 
3533Wh
Solar Charging Input 
Max 2000W (60V-150V)
AC Output 
4 x 20A, 3000W total
EV Charging Spot 
Adapter needed
USB-A Output 
6 x QC 3.0 24W
Generator 
Support
USB-C Output 
1 x PD 65W + 1 x PD 100W
Battery Chemistry 
LFP
Car Power Output 
12V / 10A
Cycle Span 
6000 cycles to 70% capacity (@25 °C +0.5C/-0.5C)
DC5521 Output 
2x 12V / 5A
Connection 
Wi-Fi. Bluetooth
AC RV Port 
30A
Net Weight 
100.1 lbs / 45.4kg
AC Charging Input 
Max 3000W
Dimension 
17.8*13.6*19.4 in / 45.2*34.5*49.4 cm
Specs of The Expansion Battery
General Net Weight 73.1lbs(33.18kg)
Size 17.8x13.6x12.5 inches(452x345x318mm)
Working Temperature Charging: -10°C~45°C(14℉~113℉)
Discharging: -20°C~45°C(-4℉~113℉)
Warranty 5 years
Certifications Meets US and International Safety and EMI Standards
IP level IP21 
Battery Capacity 3533Wh
Cell Chemistry World's best CATL LFP
Life Span Capacity Retention >70% after 6000 cycles(@25℃, +0.5C/-0.5C)
Battery Management Systems Over Voltage Protection, Overload Protection, Over Temperature Protection, Short Circuit Protection, Low Temperature Protection, Low Voltage Protection, Overcurrent Protection
Max charging rate Up to 1.1C
Charging Method AC Wall Outlet, AC Adapter
AC Charging Max 3000W(by connected to MANGO POWER E)/AC Adapter
Output Ports 3
USB-A 1 x QC 3.0 24W
USB-C 1 x PD 100W
Car Power Output 12V/10A
Comes With:

Mango Power E Expansion Battery 
Order today and enjoy the reliability and versatility of this exceptional power kit!