EcoFlow DELTA 2 MAX Portable Power Station + 400W Solar Panel
Introducing the EcoFlow DELTA 2 MAX Portable Power Station + 400W Solar Panel - Unleash Maximum Power!
Experience the ultimate portable power solution with the EcoFlow DELTA 2 MAX paired with a 400W Solar Panel for power on the go! This advanced power station is designed to provide maximum capacity and versatility, ensuring you have all the energy you need, wherever you go.


Expandable capacity - 2-6kWh expandable capacity to fit your energy storage needs. Add up to two DELTA 2 Max Smart Extra Batteries to hit a capacity of 6144Wh. Ideal for home backup, RVing, outdoors or even everyday use.

Built to last 6× longer - Get 10 years of daily use until hitting 80% of its original capacity. That's down to its LFP battery chemistry giving you 3000+ cycles.
Huge AC output - With X-Boost mode get up to 3400W output power to run 99% of home appliances. Power 15 devices at once including 6 AC outlets.
Fastest recharging - World's fastest AC recharging and X-Stream dual AC+Solar charging speeds. Up to 1000W solar input to charge in as fast as 2.3 hours.
Capture more energy - 99% MPPT efficiency maximizes solar generation anytime.
Customized in-app energy management - Prioritize solar or AC charging, view input and output power, battery levels and more.
5-Year warranty
Get up to 30% of your order in rebates through the Residential Clean Energy Credit. Learn More
EcoFlow DELTA 2 MAX Portable Power Station Description
With an impressive 2,048Wh capacity, the DELTA 2 MAX Power Station delivers unrivaled power to keep your devices and appliances running for extended periods. From smartphones and laptops to refrigerators and power tools, this power station can handle it all, making it perfect for outdoor adventures, RV trips, and emergency backup situations.
The compact and sleek design of the DELTA 2 MAX Power Station makes it highly portable, allowing you to take it anywhere with ease. Whether you're camping in the wilderness, working remotely, or facing a power outage, this power station ensures you stay connected and powered up.
Equipped with multiple charging options, including AC, DC, and solar, the DELTA 2 MAX Power Station offers flexible recharging capabilities. Pair it with EcoFlow's solar panels for an eco-friendly and off-grid charging solution, harnessing the sun's energy to replenish your power station.
The DELTA 2 MAX features a user-friendly interface with an intuitive LCD screen, providing real-time information about battery status, power output, and charging input. Stay informed and in control of your energy usage, optimizing your power allocation.
With its comprehensive selection of output ports, including USB, USB-C, AC, and DC, the DELTA 2 MAX Power Station accommodates a wide range of devices. From small electronics to high-powered appliances, you can keep all your essentials powered up and running smoothly.
Safety is a top priority, and the DELTA 2 MAX Power Station is equipped with advanced protection mechanisms to safeguard your devices and the power station itself. It includes features such as over-temperature protection, short circuit protection, and low voltage protection, ensuring worry-free usage.
Experience the freedom of portable power with the EcoFlow DELTA 2 MAX Portable Power Station. Whether you're camping, traveling, or preparing for emergencies, this reliable and versatile power station is your key to unlimited energy.
Please note that additional accessories, such as solar panels and car chargers, may be required for optimal charging and expanded power capacity. Refer to the user manual or EcoFlow customer support for guidance on maximizing the performance of your power station.
EcoFlow DELTA 2 Max Solar Generator
Ditch Gas, Go Solar
Winner of Red Dot Design Award 2023. EcoFlow DELTA 2 Max Solar Generator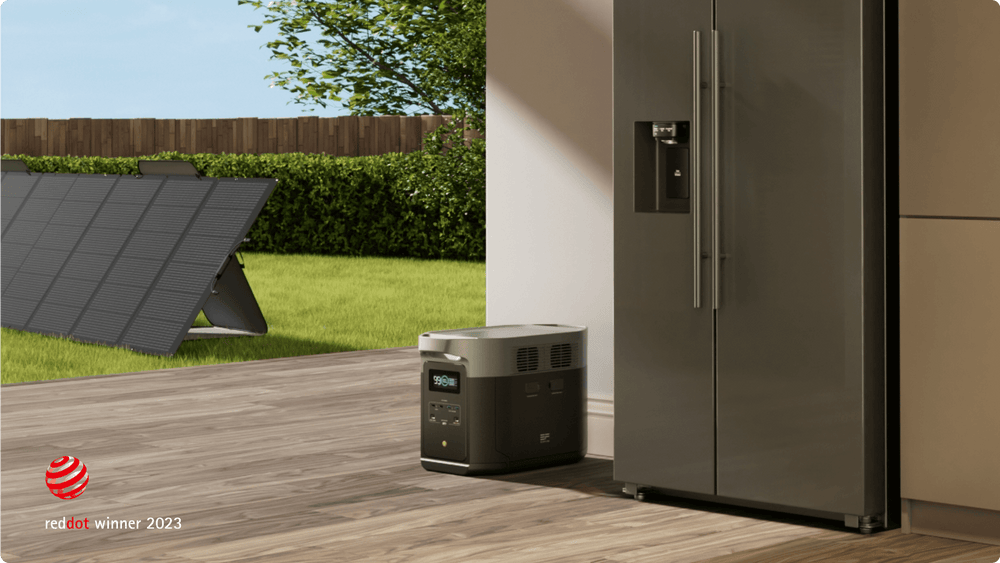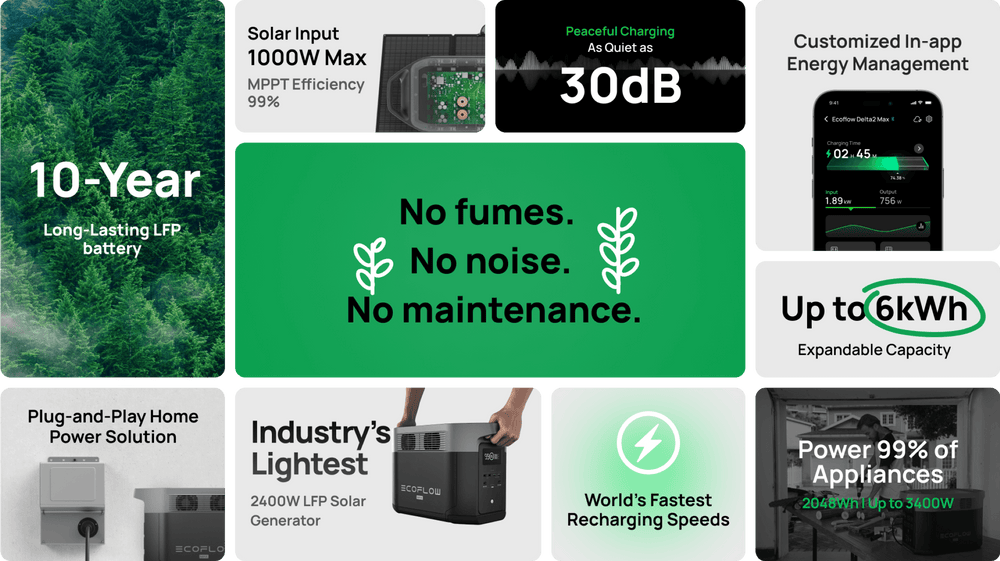 10-Year Long-lasting LFP Battery
Durable, Safe, Lightweight
With its upgraded LFP battery chemistry, DELTA 2 Max has a lifespan of 3000 complete cycles until it reduces to 80% capacity. You'll get pretty much 10 years of power, even if you use it every day. That's 6× longer than other power stations with a similar capacity and output.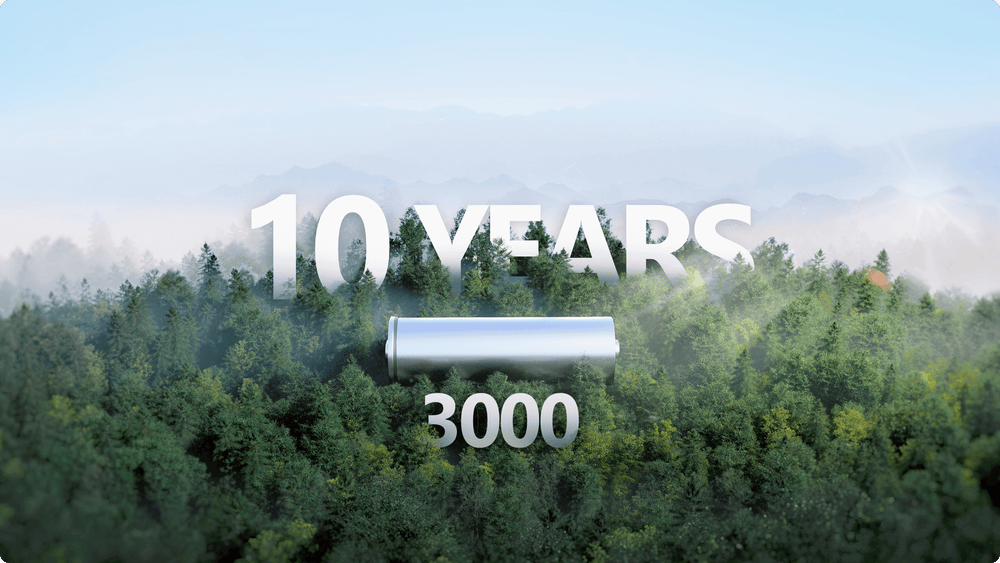 LFP Battery Chemistry
That's 6× longer than other power stations with a similar capacity and output.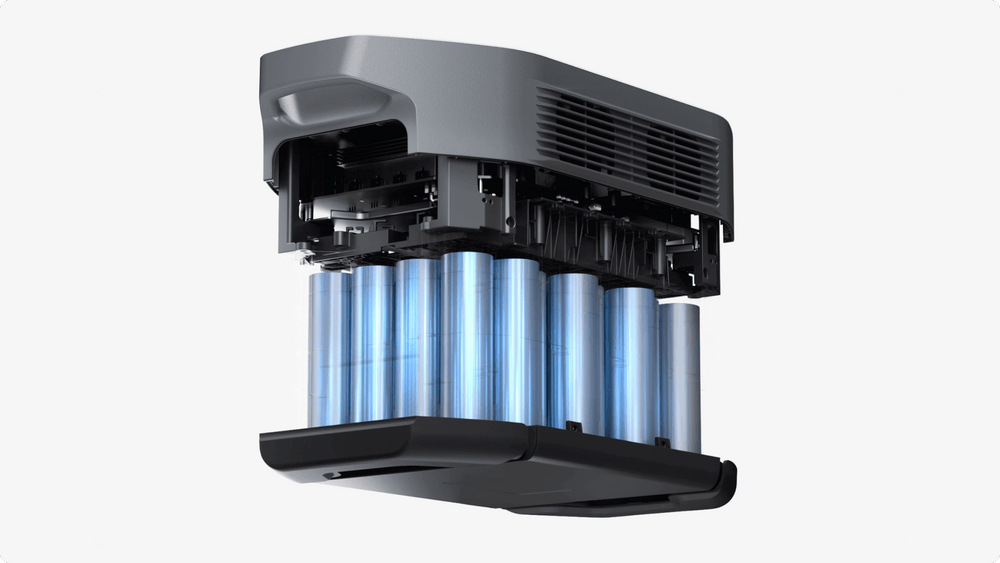 Advanced BMS Protection
A built-in battery management system regulates vitals, including voltage, current, and temperature, keeping DELTA 2 Max safe, secure, and built to stand the test of time.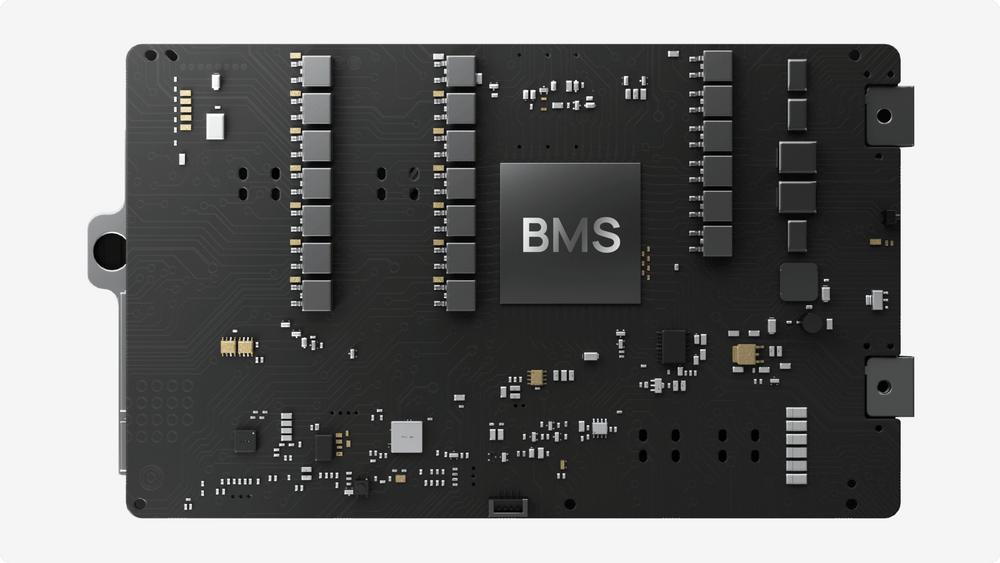 Protective Layers Inside and Out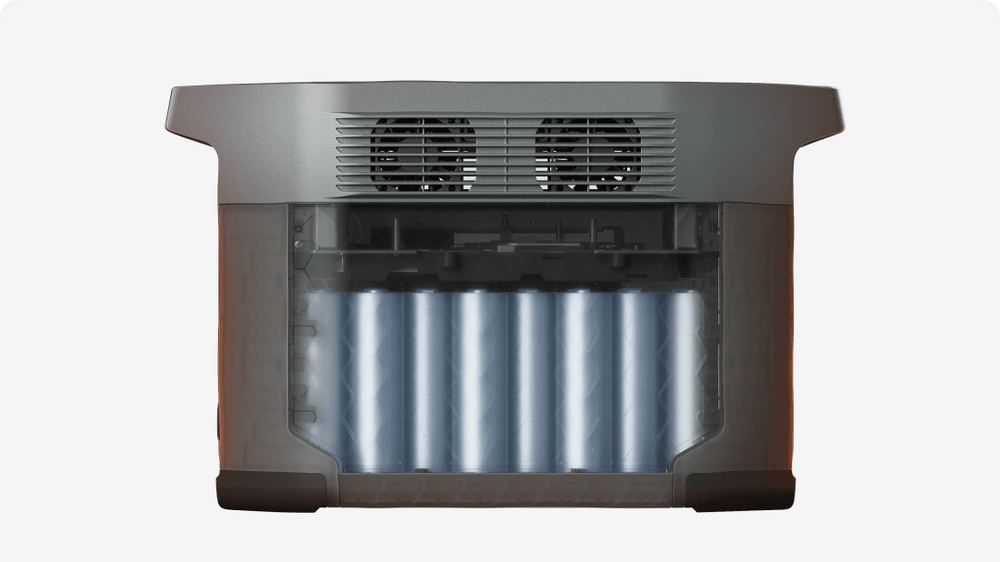 With LFP cells, DELTA 2 Max is safe, durable, and highly efficient.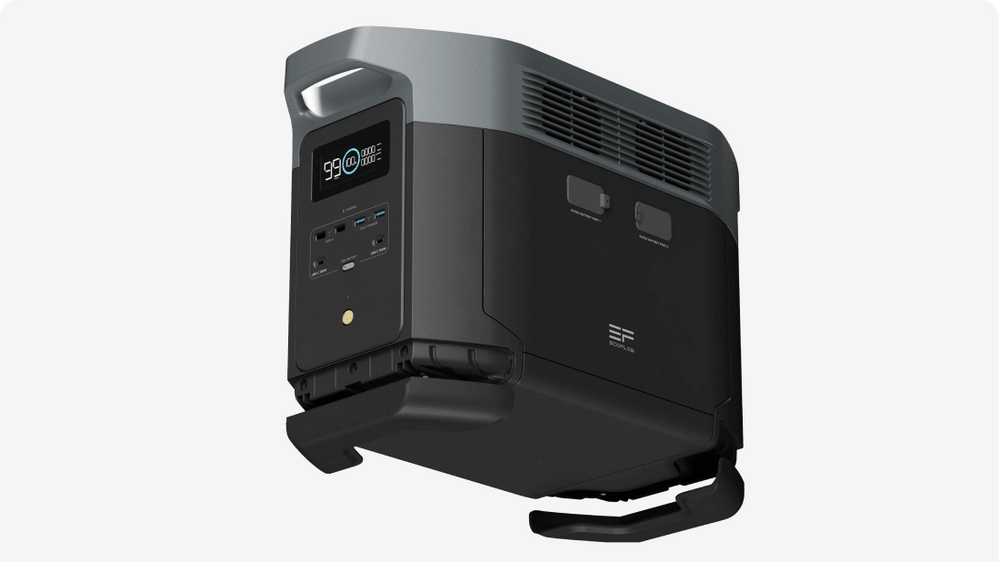 A rubber anti-slip base and a highly-rated UL94-5VA fire-resistant casing offer multiple layers of protection.
Robust Design
Made with a sturdy one-piece design, DELTA 2 Max is designed for the rough and tumble of portability. Each port is reinforced, protecting them against wear and tear.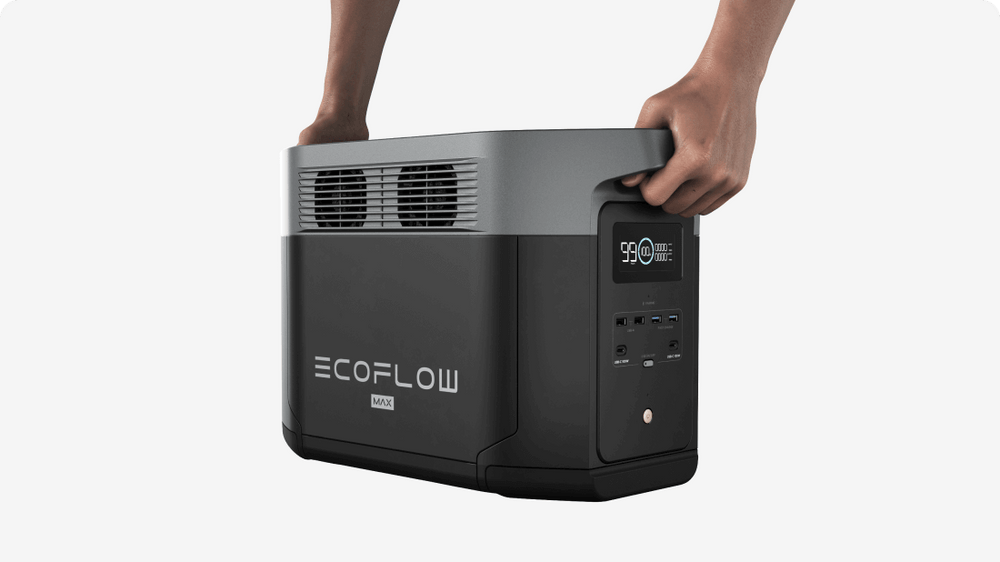 Upgraded Tech, Lighter Weight
Even with its upgraded LFP battery, DELTA 2 Max is still 30% lighter than similar power stations on the market.
Run 99% of Appliances with X-Boost
Power pretty much anything with up to 3400W Output
DELTA Max powers almost all the devices you need with a large 2400W AC output. With X-Boost proprietary technology, run appliances with an output of up to 3400W. Compared with similar portable power stations, DELTA 2 Max can power more devices while also preventing overloading and overheating.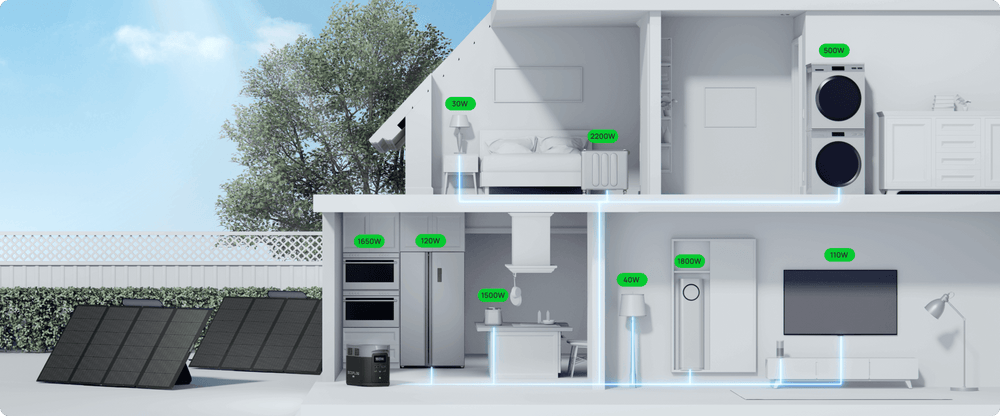 120V Home Backup: Power through outages
Power your essential appliances with a hefty 2400W AC output by connecting DELTA 2 Max (2kWh) and up to two Smart Extra Batteries (6kWh) with your home's transfer switch for partial home backup. With a plug-and-play design, it's easier than ever to prepare for blackouts.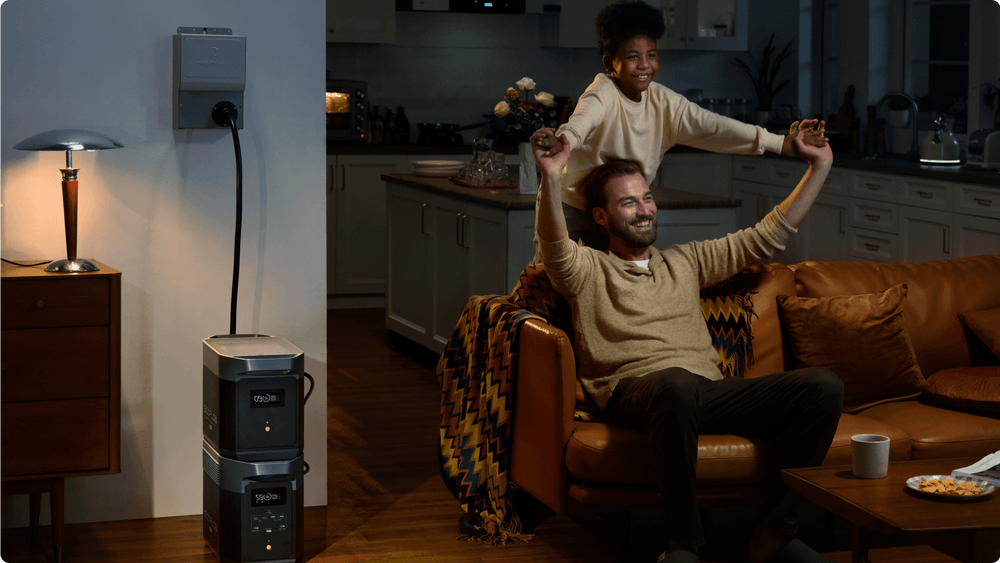 Power for the entire family
A generous 2048Wh capacity makes DELTA 2 Max ideal for home backup, running your essentials for hours. Using your transfer switch, or plugged in directly, keep your fridge on and stop food from spoiling for up to 14 hours. With its lightweight design, DELTA 2 Max is portable enough to grab and go on the next camping trip.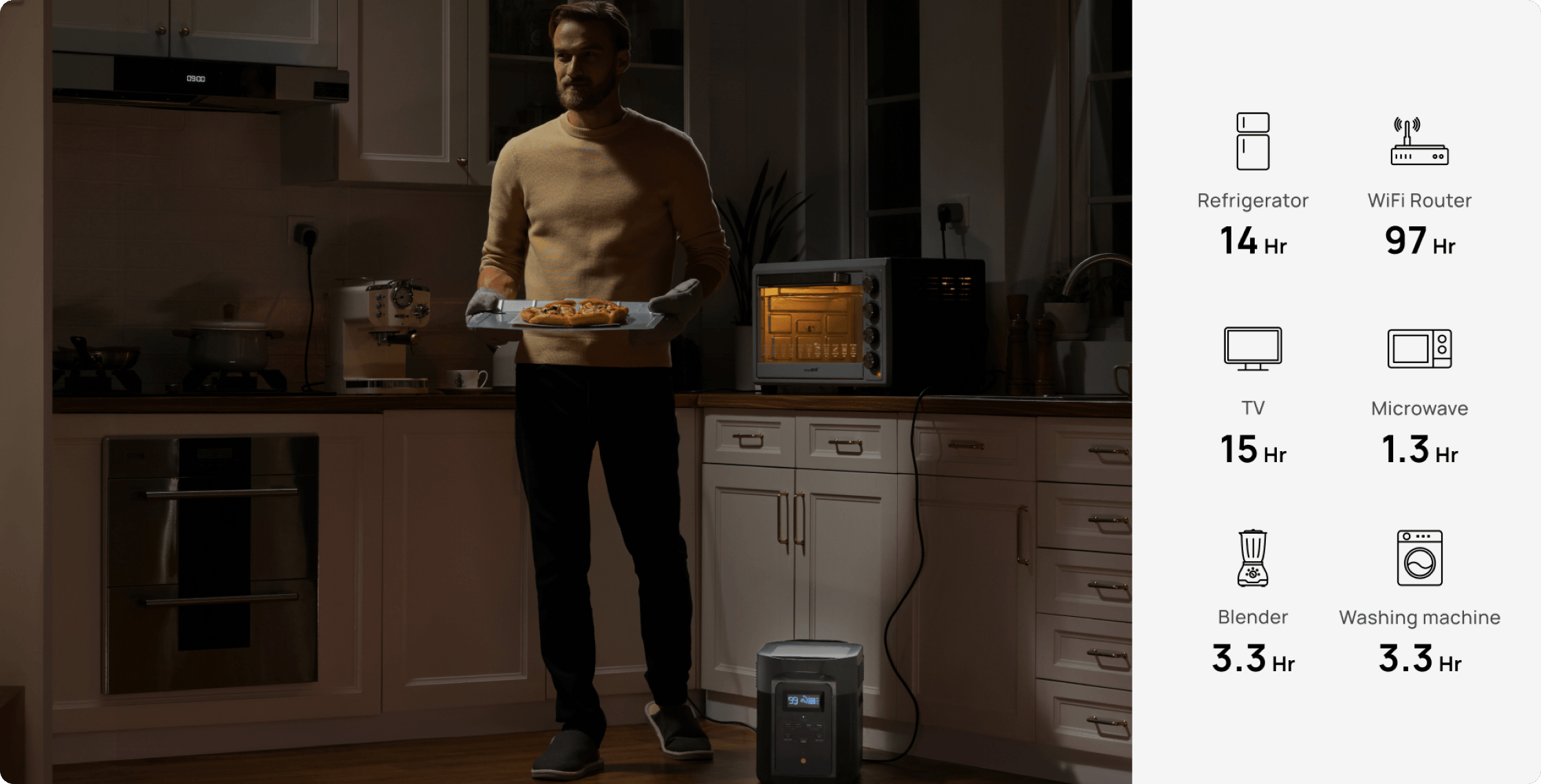 Home Backup
RVing & Outdoors
DIY Projects
Filmmaking & Photography
Expandable up to 6kWh
Take DELTA 2 Max with you anywhere as a solo unit or connect it with two Extra Batteries for up to 6kWh of home backup.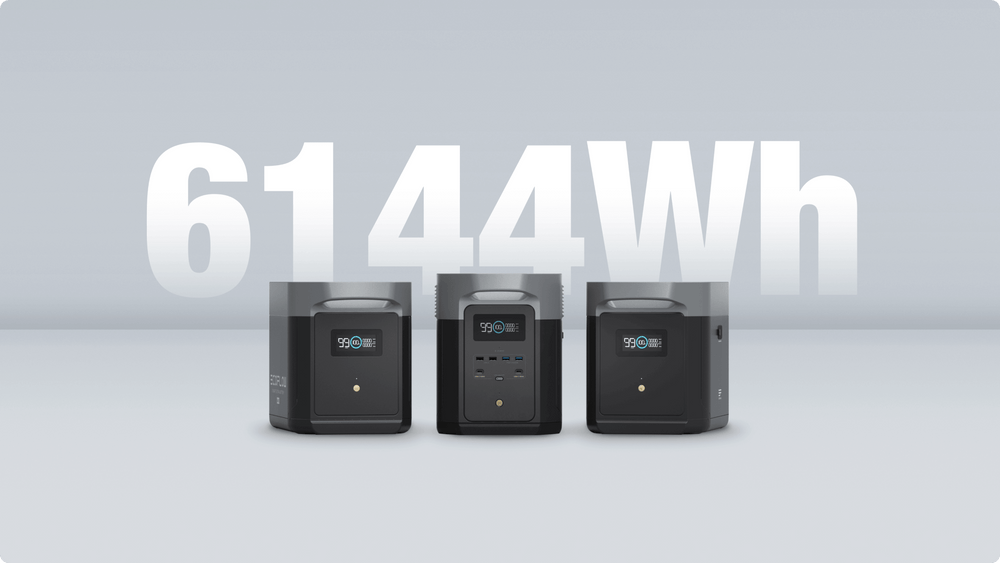 Experience the world's fastest 43 minute recharge
Fuel Up 80% in Only 43 Mins*
With DELTA 2 Max's upgraded tech, combine up to 1000W solar input with AC for world-leading charging speeds. In only 43 min get an 80% charge. Or stick with AC for an 80% charge in a speedy 1.1 hour.
*When combined solar and AC input is 2400W.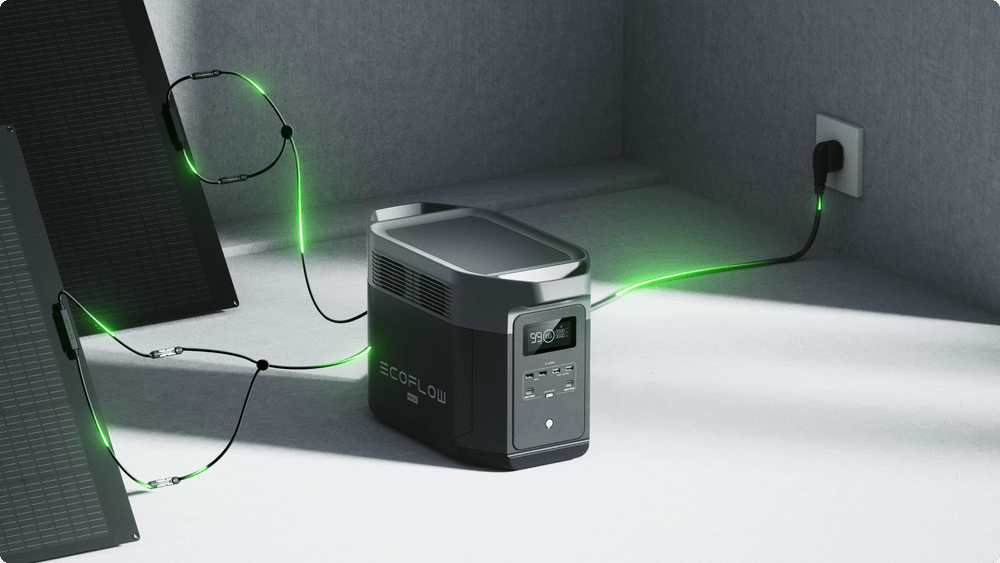 99% MPPT Efficiency
Maximise solar generation during daylight hours
EcoFlow's smart (MPPT) algorithm automatically detects voltage and current in real-time to give you optimum solar generation throughout the day, even during cold and cloudy days. With a solar input of 1000W, connect up to 2 EcoFlow 400W Portable Solar Panels or 4 sets of 220W Bifacial Solar Panels.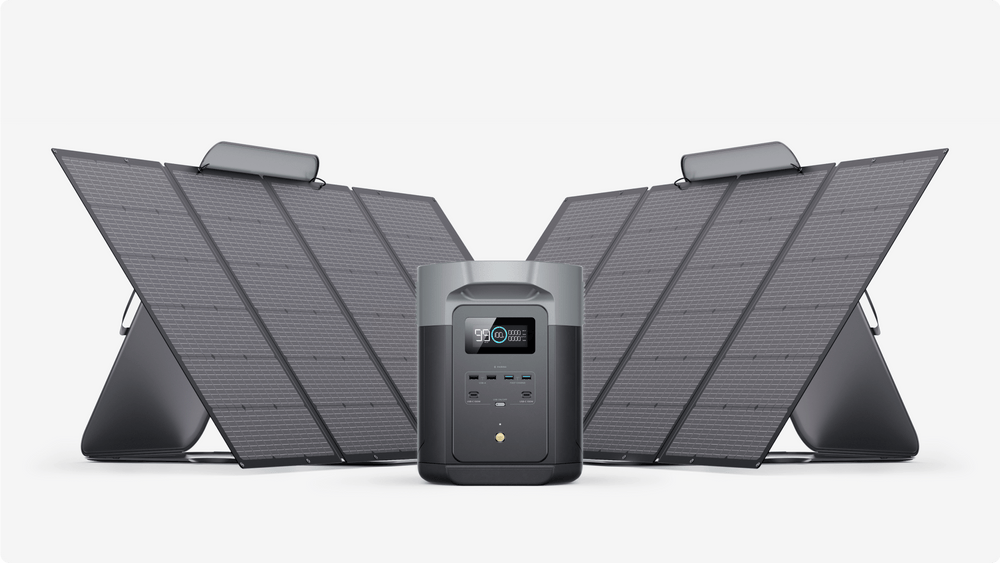 Customized In-App Energy Management
Take control of your power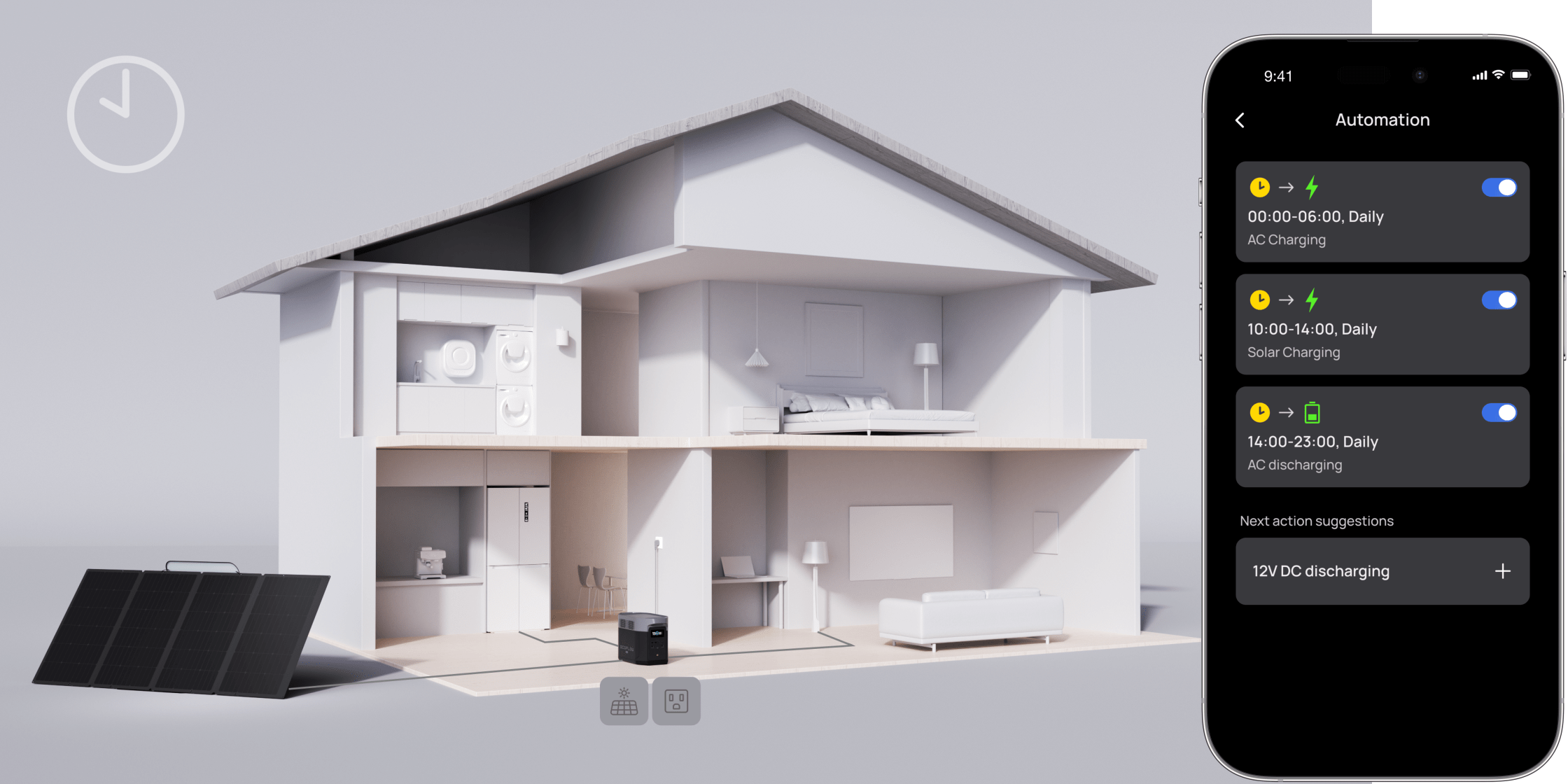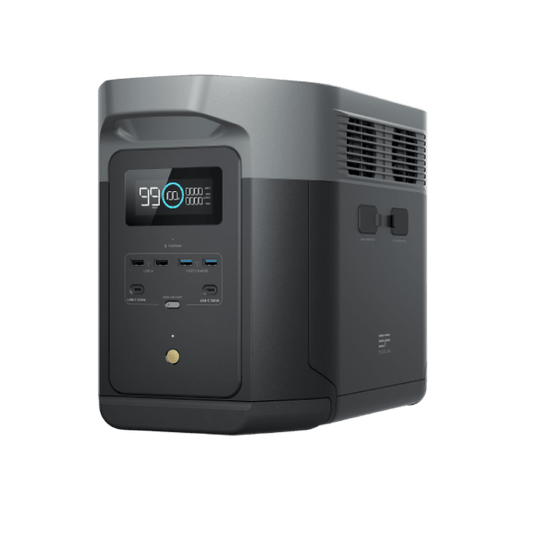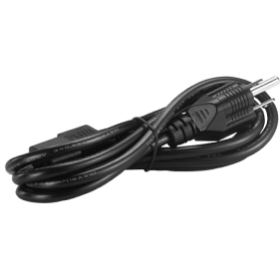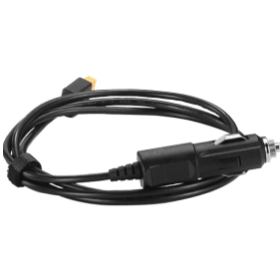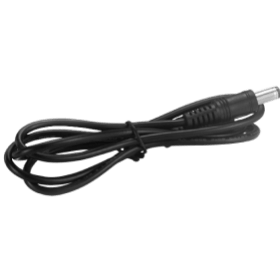 400W Solar Panel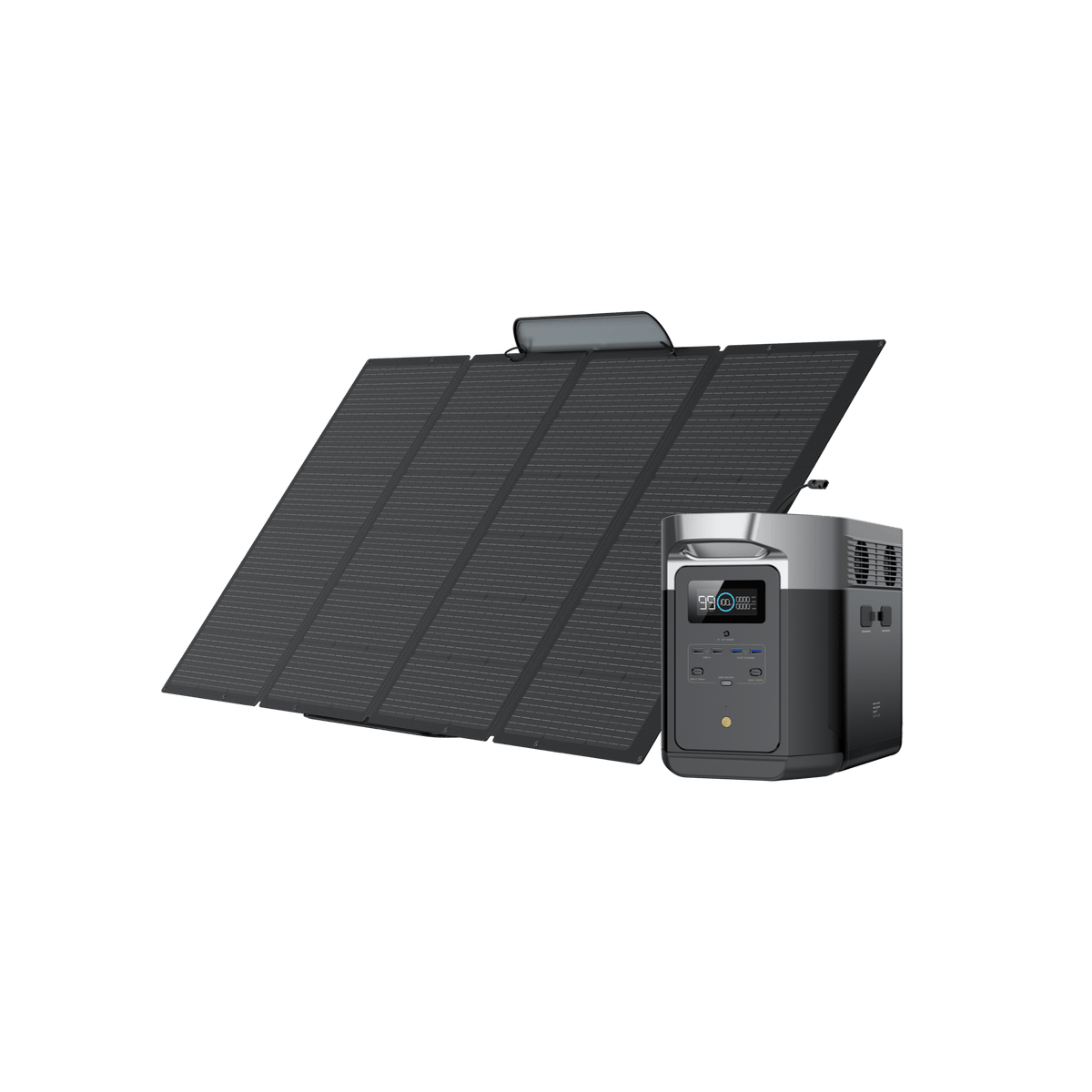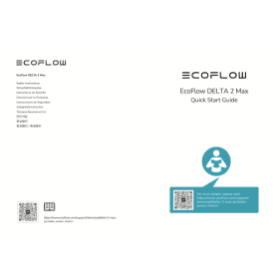 Specs
Extra Battery Supports up to two DELTA 2 Max Smart Extra Batteries / DELTA Max Smart Extra Battery
AC Output 6 outlets, 2400W total (Surge 4800W)
Max Device(s) Power (with X-Boost) X-Boost 3400 W
USB-A Output 2 ports, 5V, 2.4A, 12W Max per port
USB-A Fast Charge 2 ports, 5V, 2.4A / 9V, 2A / 12V, 1.5A, 18W Max
USB-C Output 2 ports, 5/9/12/15/20V, 5A, 100W Max per port
Car Power Output 1 port, 12.6V, 10A, 126W Max
DC5521 Output 2 ports, 12.6V, 3A, 38W Max per port
AC Charging X-stream Fast Charge 1800W, 15A
AC Input Voltage 100-120V~ max. 15A 50Hz/60Hz
Solar Charging 11-60V 15A, single port 500W; dual port 1,000W
Car Charging Support 12V/24V battery, 8A
EcoFlow WAVE & WAVE 2 & GLACIER & Smart Generator Supported
Battery Chemistry LFP (LiFePO4 battery)
Cycle Life 3000 cycles to 80+% capacity
Connectivity Wi-Fi & Bluetooth
Dimensions 497 × 242 × 305 mm /19.6 × 9.5 × 12 in
Net weight (kg) 23kg
EcoFlow PS400 400W Solar Panel Specs
Open Circuit Voltage: 57.6V
Dimensions (Folded): 35.9 × 25.9 × 1.9 in / 913 × 659 × 47 mm
Dimensions (Unfolded): 102 × 35.9 × 1.2 in / 2,591 × 913 × 30 mm
Net Weight: 35.1 lb / 15.9 kg
Unleash maximum power with the EcoFlow DELTA 2 MAX Portable Power Station. Take charge of your energy needs and embrace the convenience and versatility of portable power like never before.