BLUETTI AC300 + 1*B300
Introducing the BLUETTI AC300 + 1*B300 | Home Battery Backup: Empower Your Home with Reliable Backup Power!
Say goodbye to power outages and embrace uninterrupted energy with the BLUETTI AC300 + 1*B300 Home Battery Backup. This cutting-edge system is designed to enhance your daily life by providing a dependable and long-lasting power solution for your home.
The BLUETTI AC300 + 1*B300 combines advanced technology and robust design to deliver exceptional backup power. With its high-capacity 3,000Wh lithium iron phosphate (LiFePO4) battery and the additional B300 battery, this system ensures extended backup power for your essential appliances and devices. Experience the peace of mind that comes with having a reliable and efficient energy source at your fingertips.
Add in the AC300 Home Integration Kit to connect to your homes circuits and experience plug and play immediate whole home backup power (Read more below).
Get up to 30% of your order in rebates through the Residential Clean Energy Credit. Learn More
Expand Your Power At Will
BLUETTI AC300 is 100% modular, supporting up to 4×B300 (3,072Wh per pack) battery modules for a groundbreaking capacity of 12,288Wh! Power your basic family needs for DAYS during emergencies or power outages!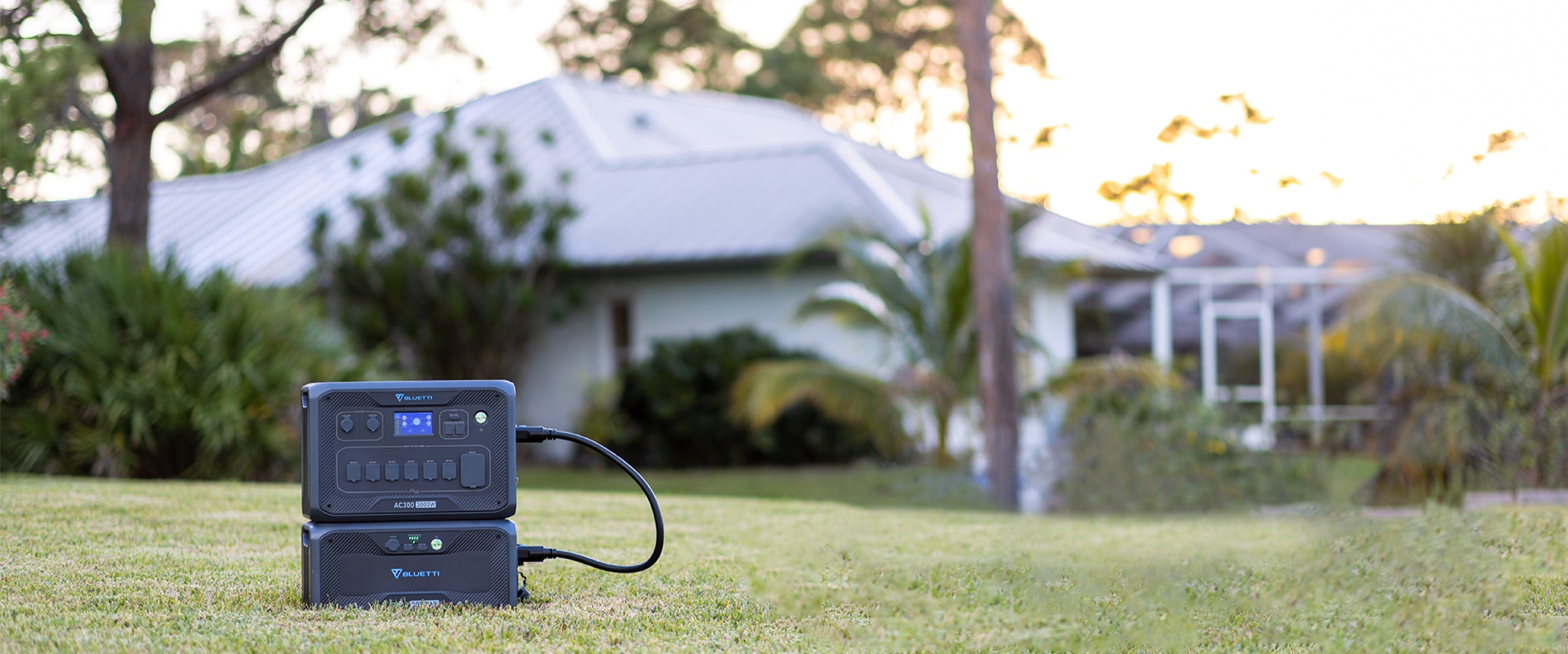 3000W Pure Sine Wave Inverter
The inverter can adjust the charging rate from 1800W to 3000W via wall outlets according to your needs.
* The AC input is 1800W by default, which can boost to 3000W with the 30A charging cable(Sold separately on BLUETTI).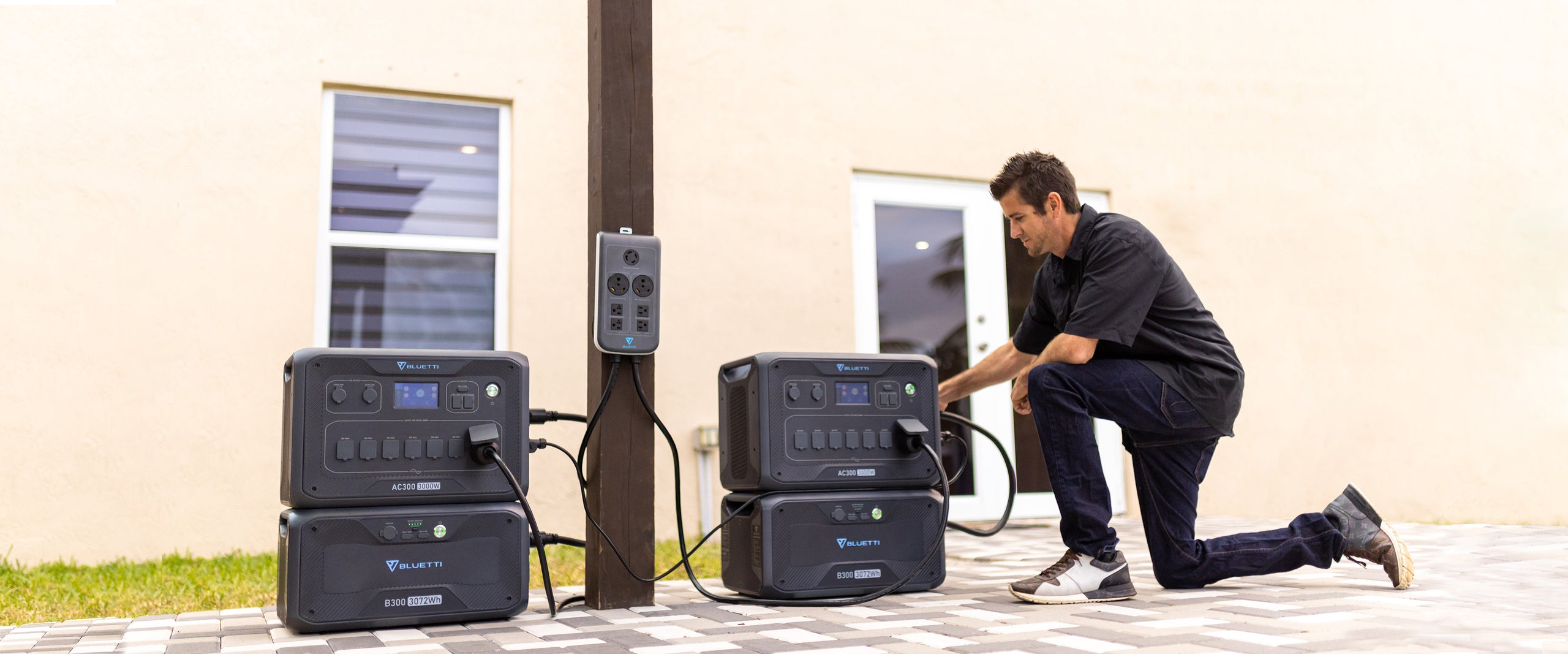 5400W Blazing Input Rate
Plug in the wall outlet and solar panels, you can fast charge the AC300 much faster at a 5,400W Max rate, saving you a lot of charging time.
*The 5,400W input rate combines 2,400W solar and 3,000W AC, which requires two B300 batteries. Or the rate would be limited to 3,000W with only one B300.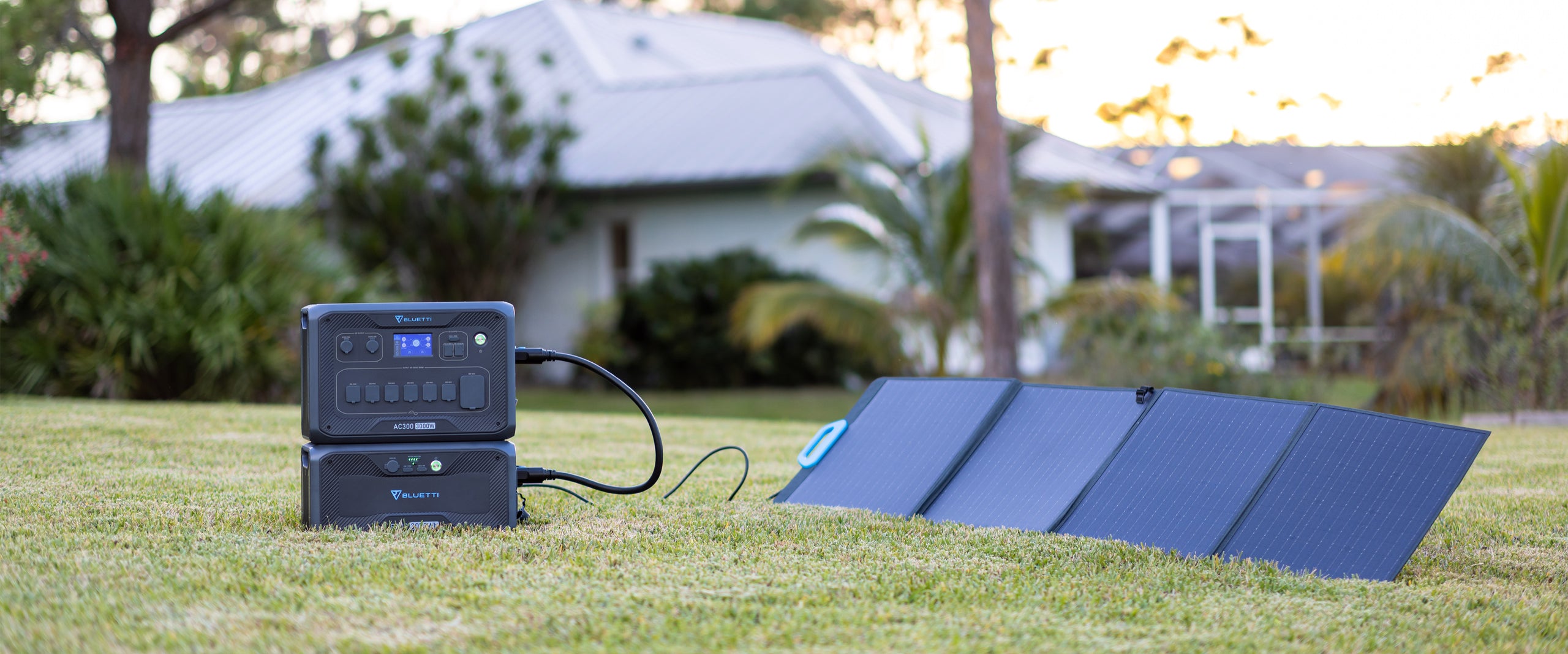 240V Connection Available
With the Fusion Box Pro(P030A), you can connect two AC300 in series for 240V/6,000W output and a total capacity of 24,576Wh(4 B300s for each AC300).

24/7 UPS Home Backup
Using BLUETTI Smart Home Panel, you can tie the AC300 power system to your home grid. Always get you prepared for power outages.
One System For All Power Needs
Power your home whenever power outages occur. Easy setup, Just Power On.

Never Run Out of Power
Suitable for various occasions
Enjoy a life free from the disruption and inconvenience caused by power outages. With the BLUETTI AC300 + 1*B300, you can confidently face unexpected blackouts, knowing that your home's critical systems, appliances, and electronics will continue to function smoothly. Spend quality time with your family, work from home without interruptions, and have the comfort of knowing that your home remains powered and protected.
BLUETTI is a trusted brand renowned for its commitment to quality and innovation. The AC300 + 1*B300 has undergone rigorous testing to ensure its reliability, durability, and outstanding performance. With numerous satisfied customers worldwide, BLUETTI has established itself as a leader in home battery backup solutions.
Don't let power outages disrupt your life any longer. Invest in the BLUETTI AC300 + 1*B300 | Home Battery Backup today and secure your home's power supply. Enjoy the freedom of uninterrupted energy and the peace of mind that comes with knowing you are prepared for any situation. Take control of your power needs and make your purchase now.
Experience the difference that reliable backup power can make in your life. Order the BLUETTI AC300 + 1*B300 | Home Battery Backup today and empower your home with continuous energy!
Specs
3,000W AC Pure Sine Wave Inverter (6,000W Surge)
3,072Wh Capacity (Expandable w/ up to 4 × B300 for 12,288Wh)
LiFePO4 Battery with 3,500+ Life Cycles to 80%
240V Split Phase Bonding ( With *2 AC300 & *2 B300 )
24/7 UPS Home Backup
7 Ways to Recharge (AC/Solar/Car/Generator/Lead-acid Battery/Dual AC/AC+Solar)
2400W Max. Solar Input
5400W Max. Fast Dual Charging (Solar + AC)
Purchase Now And Embrace Uninterrupted Power