BLUETTI EP500Pro Solar Power Station | 3,000W 5,100Wh
Introducing the BLUETTI EP500Pro Solar Power Station: Embrace Unrivaled Power and Sustainability!
Experience the pinnacle of solar energy with the BLUETTI EP500Pro Solar Power Station. This advanced power station is designed to provide you with an exceptional and eco-friendly power solution, enabling you to enjoy high-capacity energy storage and unlimited power wherever you need it.
Add in the EP500 Home Integration Kit to connect to your home's circuits and experience plug and play whole home backup power! 
(Read more below).
Get up to 30% of your order in rebates through the Residential Clean Energy Credit. Learn More
All-in-one Backup Power Station
The BLUETTI EP500PRO is shipped with a ground-breaking 5100Wh LiFePO4 battery pack and a 3000W rated pure sine wave AC inverter. This class-leading power station brings you the power to run your entire party, family camping trip, cabin workshops, or even your whole house for a day or two in the event of an unexpected outage. Up to 15 outlet sources allow you to power anything from laptops and air conditioners to your electric vehicles without breaking a sweat.
Safe, Smart, And Continuously Evolving
The advanced Battery Management System and LiFePO4 chemistry bring the EP500PRO incredible safety and durability. With the built-in dual-core microcomputer and Internet connection, the EP500PRO's firmware can be upgraded through your internet connection. There is no best, only better!
Seamless UPS Backup
The EP500PRO will automatically become your home energy source for essential loads when the electrical grid goes down. Unlike gasoline generators, BLUETTI EP500PRO keeps your lights on and laptops charged without upkeep, fuel, carbon monoxide or annoying noise. Pair with up to 1200W MPPT solar input to rapidly recharge or to keep your appliances running without depleting the onboard battery. Remember when you had to worry about a power outage? Worry no longer, Meet BLUETTI EP500PRO.
How to use the EP500/EP500PRO
Designed as a flexible power station to meet various scenarios, the EP500 Series has different usages.
Never Run Out of Power
Suitable for various occasions
BLUETTI EP500Pro Solar Power Station | 3,000W 5,100Wh Description
With an impressive 3,000W power output and a substantial 5,100Wh capacity, the BLUETTI EP500Pro sets a new standard for solar power stations. Equipped with cutting-edge solar charging technology, it efficiently converts sunlight into clean, renewable energy to power your devices, appliances, and essential electronics. Embrace the convenience and reliability of sustainable power and unlock a world of possibilities.
Experience the joy of energy independence and reduce your environmental impact with the BLUETTI EP500Pro. By harnessing the sun's energy, you can break free from traditional power sources, minimize your carbon footprint, and contribute to a more sustainable future. Enjoy the peace of mind that comes with knowing you have a powerful and reliable energy source that aligns with your values.
BLUETTI is a trusted brand renowned for its commitment to quality and innovation. The EP500Pro Solar Power Station has undergone rigorous testing to ensure its durability, efficiency, and exceptional performance. With a growing community of satisfied customers worldwide, BLUETTI has established itself as a leader in solar power solutions.
Don't compromise on power or sustainability. Invest in the BLUETTI EP500Pro Solar Power Station and experience the unmatched capabilities of solar energy. Whether you're preparing for outdoor adventures, facing unexpected power outages, or simply striving for a greener lifestyle, this advanced power station is your ultimate solution. Take control of your energy needs today and make a lasting impact on the planet.
Unleash unparalleled power and sustainability with the BLUETTI EP500Pro Solar Power Station. Order now and embrace the future of clean, renewable energy!
Features
5100Wh LiFePO4, 3500+ Cycles to 80% Capacity
EP500Pro: 3000W Pure Sine Wave Output
Movable Power Station
In-grid UPS Mode & Flexible UPS Mode(24/7)
Off-grid Energy Storage
Multiple Devices Can Be Loaded Simultaneously
Flexible Recharging Way To Keep Your EP500 Always On
App Remote Control
Smart Touchscreen
5-year Hassle Free Warranty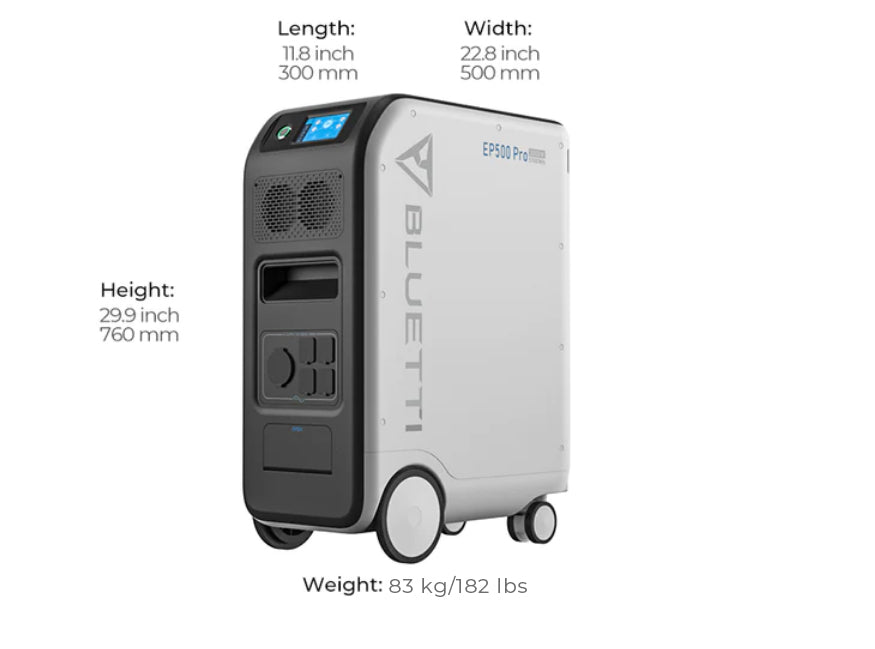 Technical Specs
AC Rated Power: 

3000W; 3000W<load<3750W,2min; 3750W<load<4500W, 5s; 4500W<load<6000W, 500ms (peak 6000W)

Net Weight: 

≈83kg (182lbs)

Dimensions: 

500*300*760mm (22.8*11.8*29.9in)

Battery Capacity: 

5100Wh

Battery Cell Type: 

LiFePO4

Rated Life Cycle: 

3500+ Cycles to 80% Capacity

Charge Temperature: 

0°C ~ 40°C (32°F ~104°F)

Storage Ambient Temperature: 

0°C ~ 45°C (32°F ~113°F)

Working Environment humidity: 

10-90%

Certification: 

UL2743, UKCA, RCM, PSE, FCC, CE

Warranty Period: 

60 Months

Color: 

Elegant White
Input Specs
PV Input or T500 Input: 
2400W Max; 12-150VDC,12Ax2; 12V/24V,8.2A
Output Specs
USB-A:
2*Quick Charging, 36W Total, 2*5VDC, 3A Total
Cigarette Lighter: 
1*12VDC, 10A
RV (Aviation Port):
1*12VDC, 30A
DC 5521:
2*12VDC, 10A Total
Wireless Charging Pad:
2*5/7.5/10/15W
In The Box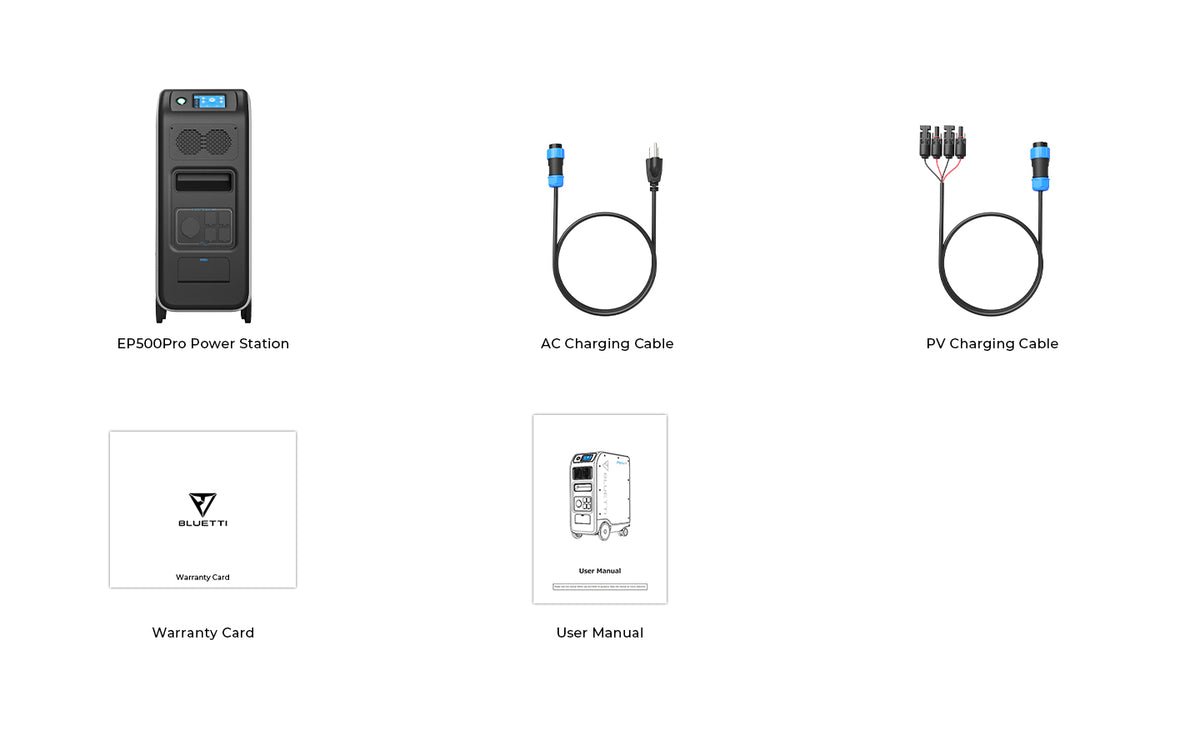 Purchase Now And Embrace Uninterrupted Power!