BLUETTI AC500 + B300S | Home Battery Backup
Introducing the BLUETTI AC500 + B300S | Home Battery Backup: Power Your Home with Uninterrupted Energy!
Say goodbye to power disruptions and experience uninterrupted energy with the BLUETTI AC500 + B300S Home Battery Backup. This advanced system is designed to improve your daily life by providing a reliable and long-lasting power solution for your home, ensuring you have power when you need it the most.
Add in the AC500 Home Integration Kit to connect your Bluetti backup system directly to your home's circuits for an instant whole home backup system. 
(Read more below).
Get up to 30% of your order in rebates through the Residential Clean Energy Credit. Learn More
Modular Solar Power System for All Needs
AC500 & B300S, the expandable power system, will definitely shift the way you harness the solar energy. It's designed to help you go through power outages, stay connected to unlimited energy wherever you are heading.
5000W Pure Sine Wave Inverter
This inverter delivers quality pure sine wave output and takes up to 10kW surge, ensuring anything you plug in will be running to its full functionality and capacity.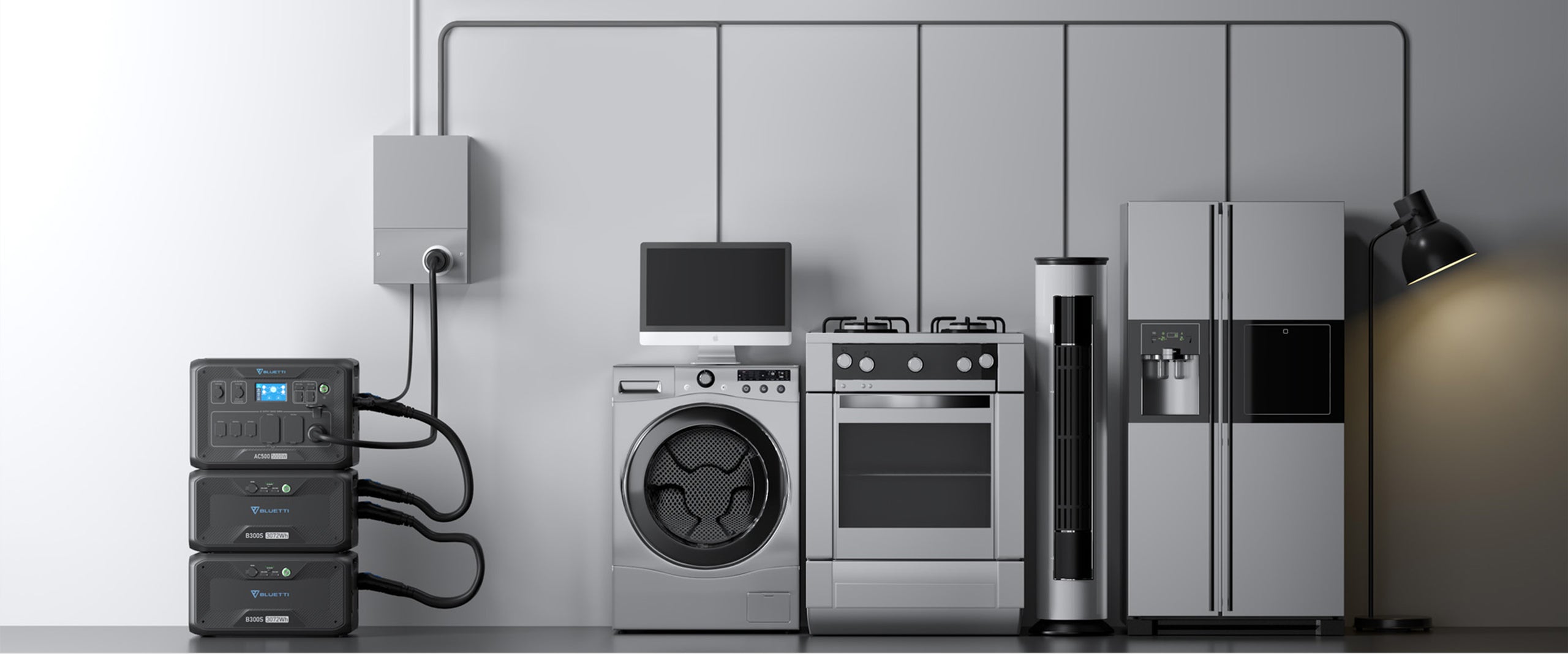 Charge in Any Way You Like
​No matter where you are, you can charge your AC500 system at any time. With the wall outlet and solar panels plugged in, the AC500 system supports up to 8,000W* impressive input rate. Get the system recharged before you pack up for the camping, and your power will be ready when you are.At least 2*B300S packs required.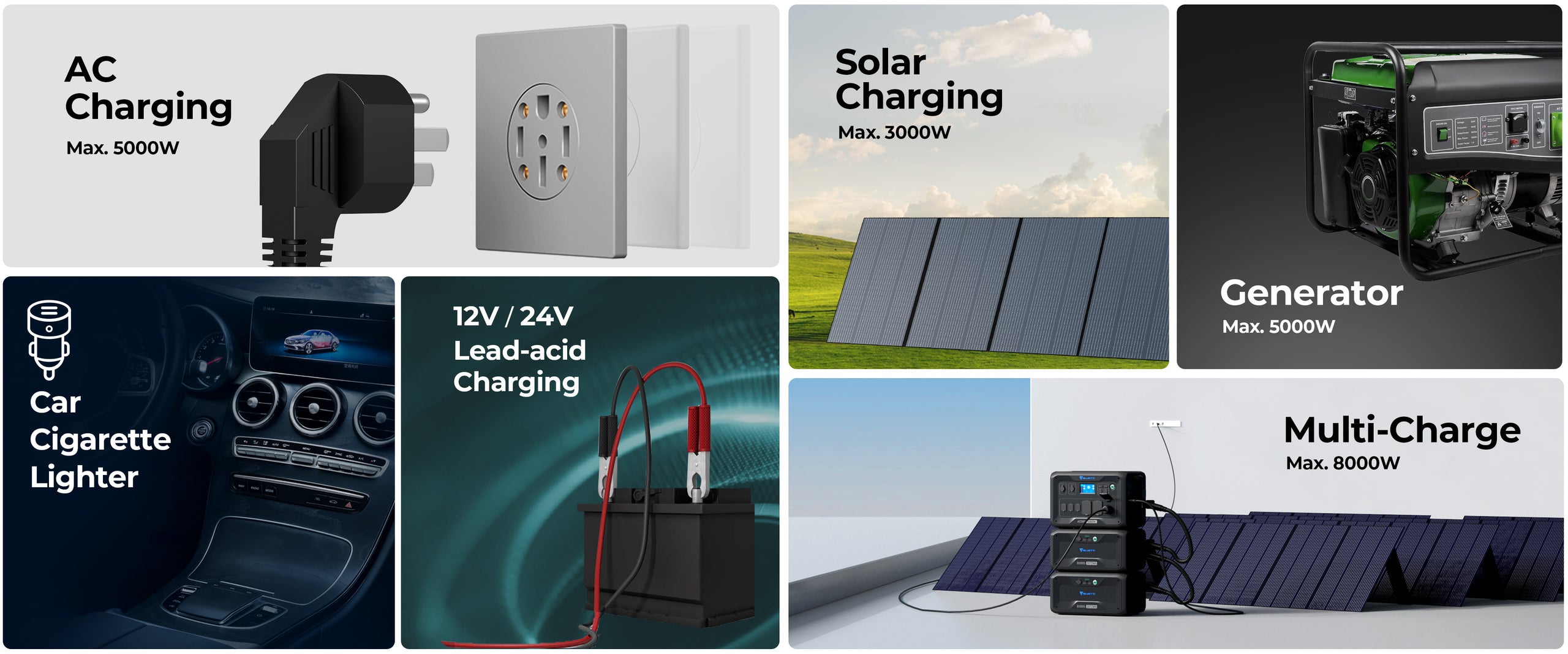 Power Option for Personalization
AC500 is 100% modular and can accept up to 6×B300S (3,072Wh each) expansion battery packs, adding up to an overall capacity of 18,432Wh – Power your whole family's basic needs for DAYS either in daily use or power outages!
Take Care of Your Heavy-duty Equipment
Connecting two AC500 units allows you to can run 240V appliances with ease. Plus, with 12*B300S batteries, you'll get an impressive capacity of 36,864Wh to reduce grid dependence and pay less for electricity.
Never Run Out of Power
AC500 powers your devices like a gas generator, but without any fuel costs, noise, and pollution, making it safe enough to use next to you whether you're at home, pitching a tent, or trying an RV road trip.
BLUETTI AC500 + B300S | Home Battery Backup Description
The BLUETTI AC500 + B300S combines cutting-edge technology and robust design to deliver exceptional backup power. With the powerful AC500 unit and the additional B300S battery, this system provides extended backup power for your essential appliances and devices. Experience peace of mind knowing that your home remains powered, regardless of external circumstances.
Enjoy a life free from the inconvenience of power outages. With the BLUETTI AC500 + B300S, you can confidently face unexpected blackouts, ensuring that your home's critical systems, appliances, and electronics continue to function smoothly. Spend quality time with your loved ones, work from home uninterrupted, and have the comfort of knowing your home remains powered and protected.
BLUETTI is a trusted brand known for its commitment to quality and reliability. The AC500 + B300S Home Battery Backup has undergone rigorous testing to ensure its performance, durability, and outstanding power delivery. With numerous satisfied customers worldwide, BLUETTI has established itself as a leader in home battery backup solutions.
Don't let power outages disrupt your life any longer. Invest in the BLUETTI AC500 + B300S | Home Battery Backup today and secure your home's power supply. Experience the freedom of uninterrupted energy and the peace of mind that comes with being prepared for any situation. Take control of your power needs and make your purchase now.
Experience the difference that a reliable home battery backup can make in your life. Order the BLUETTI AC500 + B300S | Home Battery Backup today and power your home with confidence!
Features
5,000W Rated Power (10,000W Surge)
Expandable Capacity From 3,072Wh to 18,432Wh
LiFePO4 Battery With 3,500+ Life Cycles to 80%
Smart APP Control (WiFi & Bluetooth Connection)
240V/10KW Split Phase System With 2* AC500 & 2* B300S (Max. 36.8KWh)
6 Ways to Recharge (AC/Solar/Car/Generator/Lead-acid Battery/Dual Charing (AC/AC+Solar)
16 Versatile Outlets for 99% Devices
24/7 UPS Home Backup
4-Year Warranty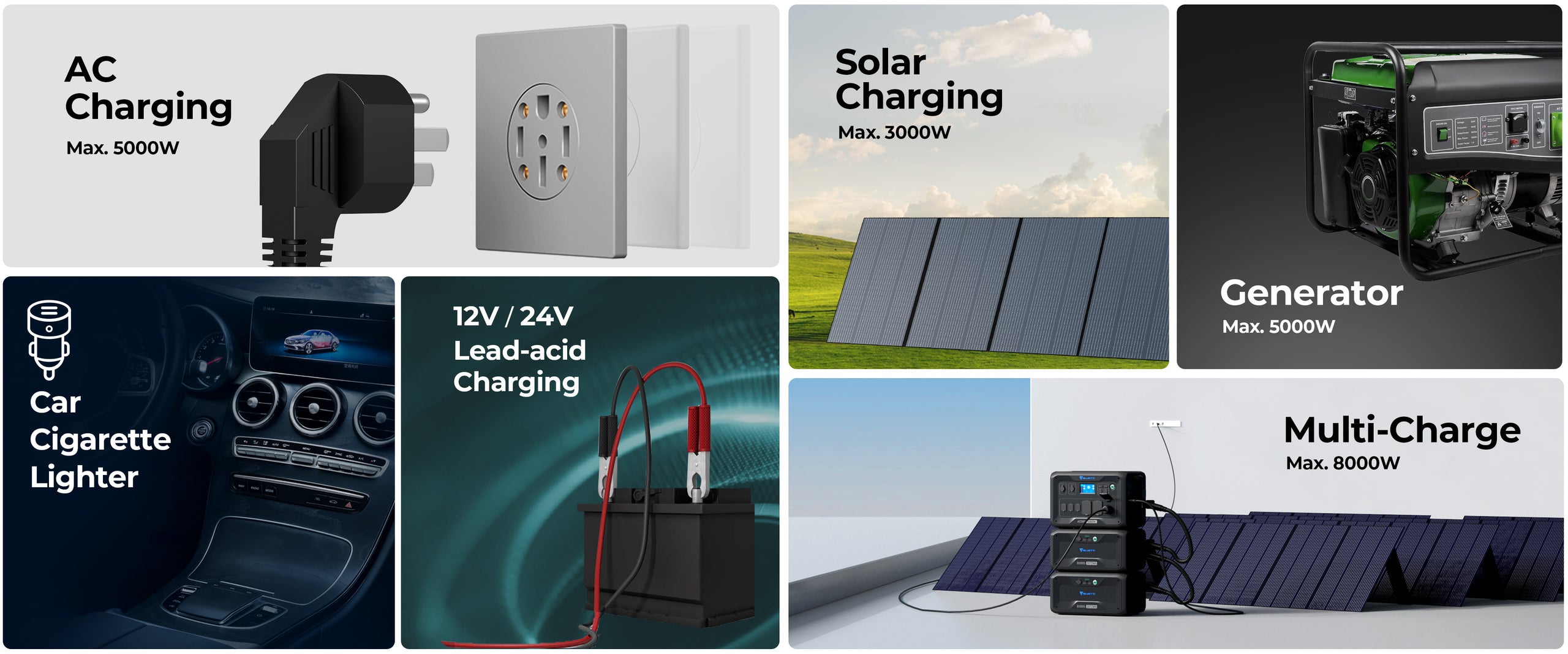 Output Specs
AC Outlets: 

3 x 120V/20A Outlets; 1 x 120V/30A L14-30; 1 x 120V/30A TT-30; 1 x 120V/50A NEMA14-50; 5,000W in total.

Inverter Type: 

Pure Sine Wave

Surge Power: 

10,000W

USB Port:

2 x 5V/3A USB-A; 2 x 18W USB-A; 2×USB-C 100W Max.

DC Outlets: 

1 x 12V/30A (RV Outlet); 1 x 24V/10A (Car Outlet) *All regulated.

Wireless Charging Pad: 

2 x 15W Max. (For Each)
Input Specs
AC Charging Cable Input: 

4,500W Max. (W/ 1*B300S), 5,000W Max. (W/ 2 or more B300S)

Solar Input: 

3,000W Max., VOC 12-150VDC, 15A

Car Input: 

12/24V from Vehicle Cigarette Lighter Port

Maximum Input: 

4,500W (W/ 1*B300S), 8,000W (W/ 2 or more B300S) with AC and Solar Input Simultaneously
General Specs
240V Split Phase Bonding: 

Yes

App Control: 

Yes, Wifi & Bluetooth

Scalability: 

Expandable W/Up to 6 x B300S Or 4×B300

Simultaneous Recharge & Discharge: 

Yes

Weight: 

66.2lbs (30kg))

Dimensions (LxWxD): 

20.5 x 12.8 x 14.1in ( 52 x 32.5 x 35.8cm)

Operating Temperature: 

-4-104℉ (-20-40℃)

Storage Temperature: 

-4-104℉ (-20-40℃)

Certification: 

UL2743, UKCA, TELEC, RCM, FCC ID, CE

Warranty: 

48 Months
In The Box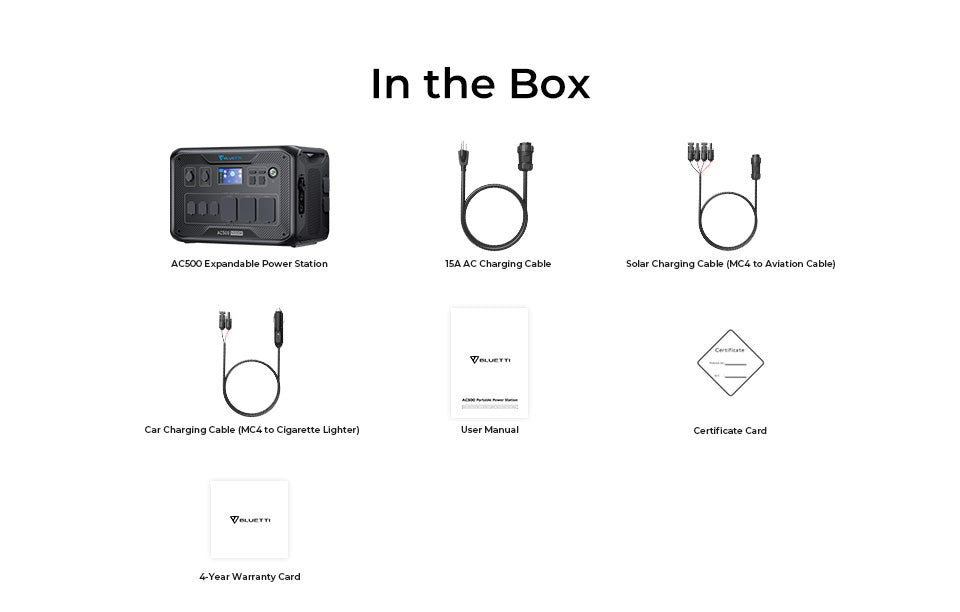 Purchase Now And Embrace Uninterrupted Power!